Two scientific prizes of NOK 75.000 each:
Suggest a scientist 
Each year, the Society awards two scientific prizes to exceptional, young researchers within the fields of sciences and humanities. The prize amounts to NOK 75,000 for each area.
Criteria:
Prize winners must be under 40 years of age at the time of distribution (March)
The prize is awarded to Norwegian or foreign researchers at Norwegian research institutions
Prize winners must have proven outstanding talent, originality and effort
Prize winners must have achieved exceptional results in their field of study
The prize is awarded at the Society's annual meeting in March, and the winners receive a diploma and a cash sum in accordance with the articles of association of I. K. Lykke's fund, which finances the prizes. Academy members and academic communities can propose candidates for the awards.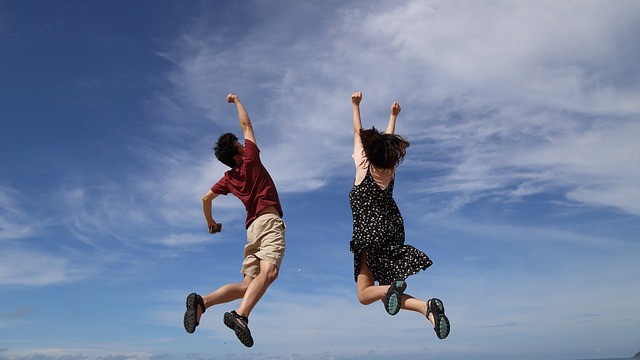 Prize winners 2018
Marie Elisabeth Rognes and Trond Nordfjærn receieved the DKNVS young researchers prize of NOK 50.000 each at the Society's annual general assembly in March 2018.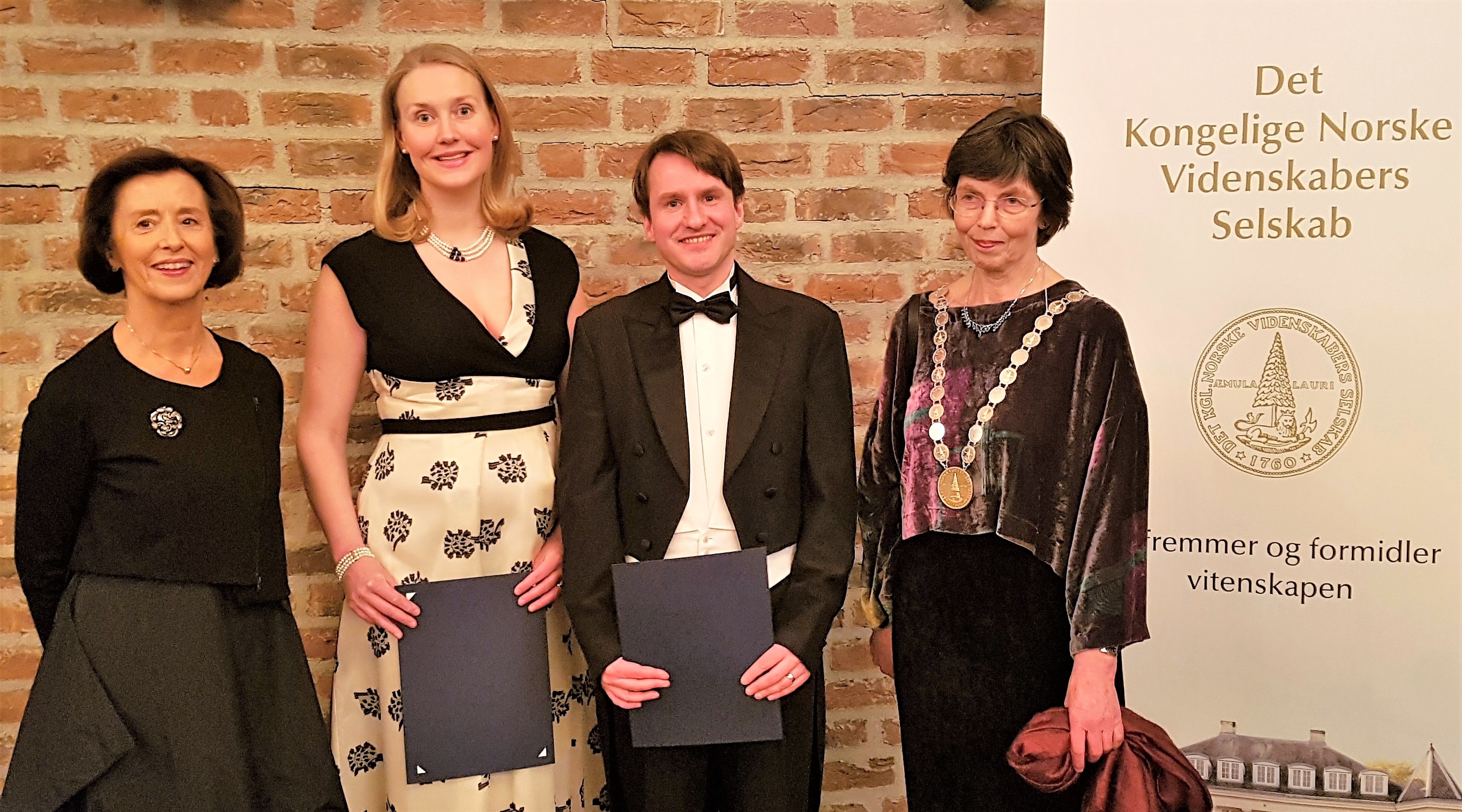 Marie E. Rognes and Trond Norfjærn received their prizes in March 2018. From left, Vice President Randi E. Reinertsen, Marie E. Rognes, Trond Nordfjærn and President Ida Bull. 
Marie Elisabeth Rognes received the 2018 award in the category of natural sciences. Rognes researches mathematical methods to solve partial differential equations. She has excelled in her work, through innovation, high scientific quality and strong international orientation. She has built up a large research group, and her contribution in the field has made researchers and developers all over the world able to solve complicated models even better. Rognes is Chief Research Scientist at Simula Research Laboratory in Oslo.
Trond Nordfjærn received the 2018 prize in the category of the humanities. Nordfjærn has two doctoral degrees, and works in several fields within psychology, among others psychological models for understanding transport choices, and the use of drugs in various subgroups in the population. His contribution to these areas is of great importance. He has published a large number of scientific publications. Nordfjærn works as a professor at NTNU in Trondheim.
Det Kongelige Norske Videnskabers Selskabs pris for yngre forskere:
The Royal Norwegian Society of Sciences and Letters' prize for younger scientists
Ph.D. Marie Elisabeth Rognes, naturvitenskap, 2018
Ph.D. Trond Nordfjærn, humaniora, 2018
Ph.D. David Bassett, naturvitenskap, 2017
Ph.D. Mats Ingulstad, humaniora, 2017
Ph.D. Jannike Solsvik, naturvitenskap 2016
Ph.D. Siv Gøril Brandtzæg, humaniora 2016
Ph.D. Ivar Berg, humaniora 2015
Professor Steffen Oppermann, naturvitenskap 2015
Ph. D. Terje Lohndal, humaniora 2014
Ph. D. Andriy Bondarenko, naturvitenskap 2014
Ph. D. Thersa M. Olasveengen, naturvitenskap 2013
Ph. D. Yasser Roudi, naturvitenskap 2013
Ph. D. Martin Wåhlberg, humaniora 2012
Ph. D. Sverre Magnus Selbach, naturvitenskap 2012
Ph. D. Thomas Hegghammer, humaniora 2011
Ph. D. Simen Andreas Ådnøy Ellingsen, naturvitenskap 2011
Dr. polit. Jon Hernes Fiva, humaniora 2010
Post.doc. Petter Andreas Bergh, naturvitenskap 2010
Post.doc. Jacob Linder, naturvitenskap 2010
Ph. D. Terje Andreas Eikemo, humaniora 2009
Ph. D. Xavier Raynaud, naturvitenskap 2009
Ph. D. Jill Kristin Lautgeb, naturvitenskap 2008
Ph. D. Jo Jakobsen, humaniora 2008
Cand. scient. Marit Sletmoen, naturvitenskap 2007
Dr. polit. Halvard Buhaug, humaniora 2006
Dr. scient. Marianne Fyhn, naturvitenskap 2006
Dr. scient. Torkel Hafting Fyhn, naturvitenskap 2006
Dr. art. Dag Trygve Truslew Haug, humaniora 2005
Dr. scient. Sigurd Einum, naturvitenskap 2005
Dr. art. Anne Beate Maurseth, humaniora 2004
Dr. scient. Bård Gunnar Stokke, naturvitenskap 2004
Dr. polit. Cathrine Brun, humaniora 2003
Dr. ing. Sigurd Weidemann Løvseth, naturvitenskap 2003
Kjøpmann Trond Lykkes pris for unge forskere:
Grocer Trond Lykkes prize for younger scientists
Cand. polit. Tanja Ellingsen, humaniora 2002
Dr. ing. Aleksander Øhrn, naturvitenskap 2002
Cand. philol. Marianne Ryghaug, humaniora 2001
Dr. ing. Magne Lygren, naturvitenskap 2001
Dr. art. Toril Aalberg, humaniora 2000
Dr. scient. Ørjan Johansen, naturvitenskap 2000
Cand. philol. Kaja Borthen, humaniora 1999
Dr. ing. Baard Kasa, naturvitenskap 1999
I.K. Lykkes pris for studenter og forskere:
Cand. philol. Madeleine Halmøy 2002
Siv. ing. Børge Rogstad 2002
Siv. ing. Torbjørn Helvik 2002
Stud. psychol. Vegard Heimly Brun 2001
Det Kongelige Norske Videnskabers Selskabs vitenskapelige priser:
The Royal Norwegian Society in Sciences and Letters scientific awards
2002:
Johannes Skaar, Selskabets pris
Jarle Tufto, Stiftelsens pris
2001:
Jonathan W. Moses, Selskabets pris
Erlend Rønnekleiv, Stiftelsens pris
2000:
Rolf Hobson, Selskabets pris
1999:
May-Britt Moser, Stiftelsens pris
Edvard Moser, Selskabets pris
1998:
Jarle André Haugan, Selskabets pris
1997:
Magne Sætersdal, Selskabets pris
Bård Pedersen, DKNVS Stiftelses pris
1996:
Stig Arild Slørdahl,   Selskabets pris
Geir Johnsen, DKNVS Stiftelses pris
1995:
Jon Thomas Kringlebotn, Selskabets pris
Tor Grande, DKNVS Stiftelses pris
1994:   ingen forslag
1993:
Tor Anders Åfarli , Akademiets pris
Halvor Kjørholt, DKNVS Stiftelses pris
1992:
Øyvind Solberg, Akademiets pris
Eirik Helseth, DKNVS Stiftelses pris
1991:
Tore C. Stiles, Akademiets pris
Jarle Hjelen, DKNVS Stiftelses pris
1990:
Yngvar Olsen, Akademiets pris
Karin Gjøl Hagen, Museumsstiftelsens pris
1989:
Arne Sandvik, Akademiets pris
Bernt-Erik Sæther, Museumsstiftelsens pris
1988:
Dagfinn Berntzen, Akademiets pris
Berit Kjeldstad, Museumsstiftelsens pris
1987:
Håkon With Andersen, Akademiets pris
Randi Eidsmo Reinertsen, Museumsstiftelsens pris
1986:
Lisa Jacobsen, Akademiets pris
Jarle Mork, Museumsstiftelsens pris
1985:
Jan Ragnar Hagland
Eivin Røskaft
Trond E. Ellingsen
1984:
Linda R. White
Terje Espevik